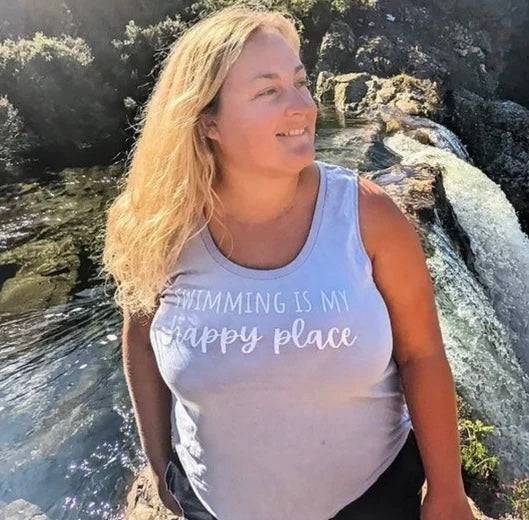 Arvor Life's Founder Charlotte's Tale
Wild Swimming: A Life-Altering Journey of Self-Discovery
May's Bluetit Discount Card giveaway is a chance to win a £100 gift card to spend at the wonderful Arvor Life - an eco-conscious clothing brand, created in Cornwall by Charlotte, supplying eco-friendly products inspired by nature.
Charlotte's wild swimming journey began with a swim with The Bluetits, and she has written the following piece about her own experience of Bluetitting and its life changing effects.
Over to Charlotte!
Hey there, fellow adventure seekers! It's not very often in life that we come across
something that can totally change our DNA, the way we cope with life and our
possibilities for the future. However, that's exactly what happened to me. I jumped
into an exhilarating journey that many of you will appreciate, one that has completely transformed my life - wild swimming. The best thing I have ever done is embrace the untamed beauty of nature's water bodies; experiencing the rush of adrenaline, and discovering a whole new perspective on life. Oh, and did I mention it led me to start my very own eco-friendly clothing business called Arvor Life?

Since childhood, water has always captivated me. Whether it's floating, diving, or
immersing myself in its cool embrace, I couldn't get enough of it, especially in the
summer. But then came a moment of enlightenment in my late twenties when I
stumbled upon a Facebook post by The Bluetits - a group of people that swims all
year round, regardless of age, size, or capability. It was like a fairy tale come to life, and so, determined to be part of the dream, I joined them on a rainy October day and voila! I was hooked!

It's formed the basis for many of the biggest life moments, including epic post-
graduation swims and one of the first dates with my partner – a romantic, skinny dip, sunset swim in icy November waters - just to see what he was made of…!
As an endometriosis patient, stumbling upon this icy miracle has changed my life
(much better than any painkiller!). The benefits of cold water immersion on my
physical and mental health have been truly transformative. In fact, it was this
newfound appreciation for the cold led me to start Arvor Life.
However, witnessing first-hand the fragility of aquatic ecosystems inspired me to
create a brand that protects the very landscapes where we experience these magical moments. We use vegan, plastic-free, eco-friendly materials and strive to minimize our carbon footprint, all in the name of preserving our beautiful planet. We create fun clothing, designed for outdoor enthusiasts who love wild swimming, hiking, exploring, and immersing themselves in nature.

Ready to dive in and make a difference? As an environmentally responsible clothing company, we remove 1lb of ocean-bound plastic with every item purchased, allowing you to directly contribute to our ocean's health.

At the heart of everything we do is our passion to get more people in the water. Wild swimming is one of the most amazing experiences you can have, so why not dive in? Make a splash! Put on your cossie and pack your layers while I share the five incredible lessons I've learned from the thrilling world of wild swimming.
1. Embracing Vulnerability
Imagine surrendering yourself to the unknown depths of nature, diving headfirst into the cool, refreshing water. It's a moment of pure vulnerability, but trust me, it's worth it! Wild swimming taught me the power of letting go and embracing vulnerability in all aspects of life. Younger me hated the thought of showing my body in all its curvy realness… 2023 me loves donning any costume (and sometimes not even that!) and jumping in the waves. Wearing knickers after a swim?? Who has time for that! Stepping out of my comfort zone and trusting the unknown? That's what it's all about!

Now, I love being a body positive advocate, proud of my body for what it enables me to experience and passionate about helping others to embrace their bodies through connection with the outdoors and clothing.
2. Connecting with Nature
Let's talk about the awe-inspiring connection with nature that wild swimming has
gifted me. Immersing myself in pristine lakes, meandering rivers, and crashing
waves has awakened a deep appreciation for our environment. Becoming entuned
with our natural spaces can be likened to the ancient Japanese relaxation 'shinrin
yoku', otherwise known as forest bathing. This simple process of relaxation involves being calm and quiet amongst the trees, breathing deeply whilst observing the nature around you, and can be very closely mimicked in our watery worlds. The very best experiences for me are floating near rocks just offshore, listening to the seabirds squawking and calling, before taking off, twisting through the air, and diving for fish.
3. Cultivating Mental Resilience
Wild swimming isn't just a physical adventure; it's a mental challenge too. Imagine
swimming against strong currents or braving the initial shock of cold water. It takes resilience and determination, which in turn makes you feel so indestructible and powerful! Through these challenges, I've honed my ability to persevere and adapt, and that mental resilience has become my superpower. As an entrepreneur, it has helped me weather the highs and lows of running a business. Embracing setbacks as opportunities for growth? Absolutely!
4. Finding Inner Peace
Close your eyes and envision the tranquillity of wild swimming. The water gently
caresses your body as you find solace amidst the chaos of everyday life. Ah, bliss!
This peaceful state has taught me the importance of self-care and introspection.
Whether it's diving into a serene lake, camping in remote wilderness or unplugging from the digital world, finding time for oneself is essential. It is this place of inner peace that I go to when I find life particularly challenging. Dive in and discover your own oasis of calm.

5. Fostering a Sense of Community
One of the most beautiful aspects of wild swimming is the incredible community that surrounds it. Perhaps one that begins on social media sharing swim spots and funny experiences, but one that becomes your clan and your swimming family. Picture a vibrant group of like-minded individuals who share a passion for nature and adventure. Together, we celebrate the beauty of open waters and the thrill of exploring uncharted territories. There's something so comforting about connecting with others who understand the pain, the exhilaration, the turning-the-air-blue when it's a cold winter's day, throwing yourself in anyway and that high you get after achieving the swim. This sense of community extends beyond wild swimming and embodies the spirit of Arvor Life. We strive to build a supportive and inclusive community around our brand, empowering individuals to lead fun, sustainable and adventurous lives.

Wild swimming has been a life-altering journey of self-discovery for me, and I'm
thrilled to share it with you. It has awakened a newfound purpose and inspired
countless incredible opportunities. So, my fellow adventurers, I encourage you to
dive headfirst into the unknown, pursue your passions, and make a positive impact in the world. Let's ride those waves!
Grab 15% off every single item in our store with the Bluetit Discount Card!
Plus read our blog or join us on TikTok for wild swimming inspiration and tips!