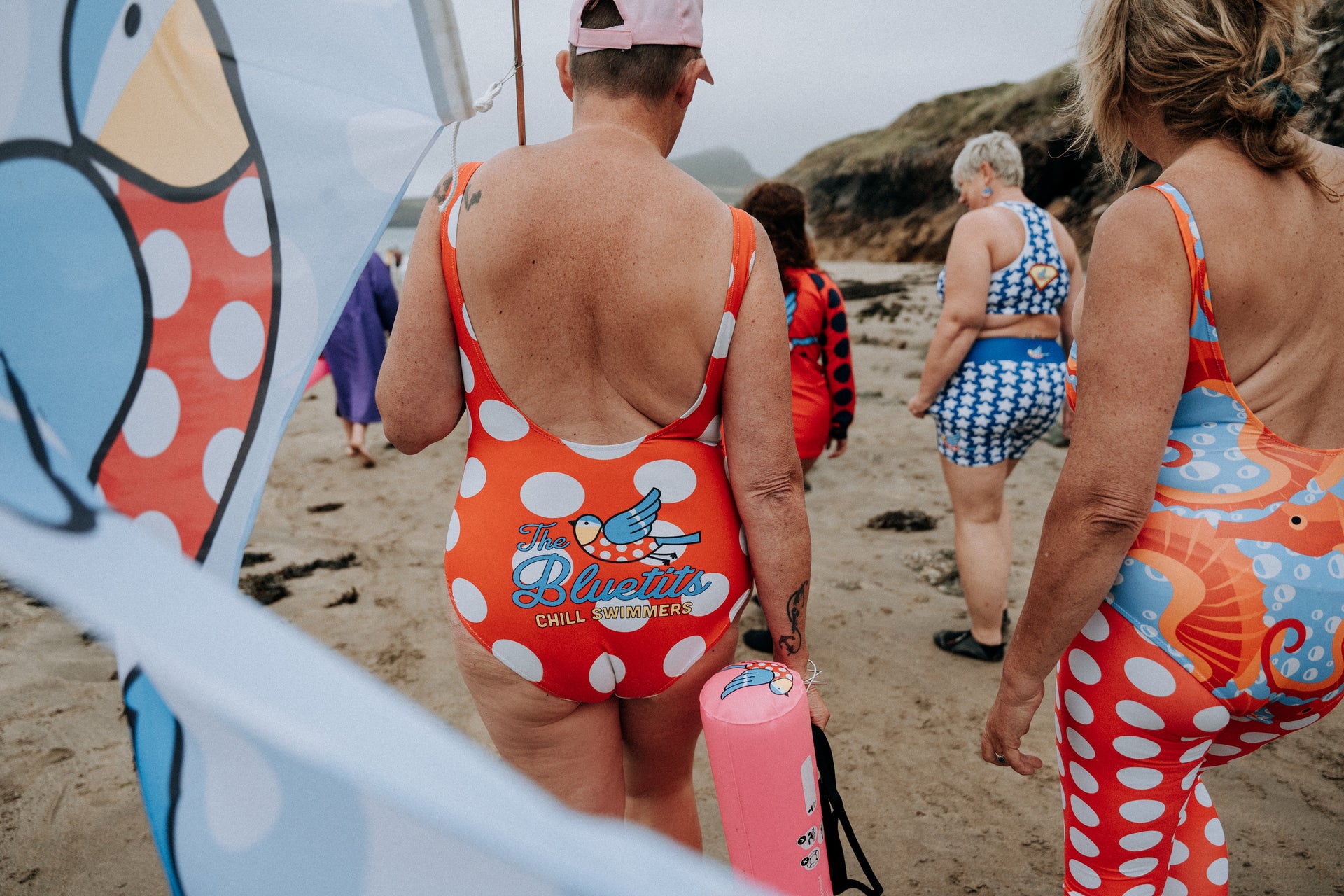 The Joys of Summer Bluetitting
Welcome, dear Bluetits (of the Northern Hemisphere!) to the enchanting world of summer swimming! As the sun graces us with its warm embrace (some days more than others...) it's time to immerse ourselves in the refreshing waters and embark on fabulous outdoor adventures.
Here are some ideas for how best to celebrate the joys of Bluetitting this summer, as well as some tips to ensure a safe, carefree experience. Get ready to create unforgettable memories with your fellow Bluetits!
Photo from Emily Starkey in The Arctic Flappers Challenge Group
Splish, Splash, and "Titnic" Delights
Combine the joy of swimming with a delightful picnic for a perfect day of summer fun! Pack a basket filled with delicious treats to look forward to after your dip. Find a cosy spot by the water's edge, spread out a blanket, grab your drink, and relish in the glorious combination of good food, great company, and a refreshing swim. It's the ultimate recipe for a fabulous day of Bluetit bliss!
Photo from Anna Louise in The Arctic Flappers Challenge Group
Sandcastles and Beachside Adventures
If you find yourself at the beach this summer, let your inner child come out to play! After a refreshing dip, channel your creativity by building sandcastles with your fellow Bluetits. Get your hands sandy, sculpt towers and moats, and let your imagination run wild. Why not craft your own Bluetit out of sand?
Photo from Tanya McCann in The Arctic Flappers Challenge Group
Nature Walks and Scenic Swims
Bluetitting is about more than swimming! When the sun shines, there's the chance to expand your adventure by combining it with a leisurely walk and getting up close with nature. This is the perfect activity for a Bluetit who enjoys dipping with a group and values those peaceful moments to themselves. Take 5 to have a quiet stroll while others spread out the blankets and settle in for a good old chinwag. You can join in again whenever!
Photo from Lizzie McBride in The Arctic Flappers Challenge Group
Sunrise or Sunset Dips
There is something oh so special about a swim at either end of a summer's day. Set your alarm and get up early, knowing that Bluetits all around you will be doing the same. Meet in the early morning light and welcome in the day with a dip. If late evenings are more your thing, get the group together for a sunset dip. Maybe even bring your jammies to get straight into afterwards!
Photo from Marina Burr in The Arctic Flappers Challenge Group
Jump Waves and Play Games
With the water warming up, there's the option to stay in a little longer and really embrace the magic of play. Being a Bluetit is so much about getting in touch with your inner child and laughing until your belly hurts. Leap through waves, maybe even body board, or simply bring a ball and start a game of catch in the water. Spontaneity is on the table in these warmer months, so make the most of it and enjoy!
Photo from Anne Phillips in The Arctic Flappers Challenge Group
Face a Fear
In winter, simply getting to a swim, into the water and warm again can take up the time and energy we have to spare. In summer, we tend to hang around a bit more and maybe have some time and headspace to challenge a limit here and there! Whether it's touching seaweed or putting your face in the water that's been a no-go for you, while you're surrounded by Bluetits to cheer you on, why not give it a go?
Don't Be A Tit, Be A Bluetit!
As we venture into the world of summer swimming, let's not forget the importance of safety. Here are some tips to keep in mind:
Choose Safe Swimming Spots: Opt for spots you know well or have researched, with clear visibility and no hidden dangers.
Swim with a Bluetit Buddy: Always swim with a friend or in a group to ensure mutual support and enjoyment.
Get in slowly, and get out when you want to: The sun may be out but the water is still cold. Keep a check on how your body is feeling and get out whenever you feel like it. It's your swim!
Layer it up: The air temperature is up, but you'll still feel chillier when you get out of the water. Remember to pack that extra jumper and pair of joggers!
For more safety tips head to our Safety Resources.
If you want to embrace a summer of Bluetitting and challenge your limits in great company, there's still time to join the Summer Challenge - Bumper Bluetit Bingo! It's only a fiver, and you get a patch and badge at the end! Learn more here.