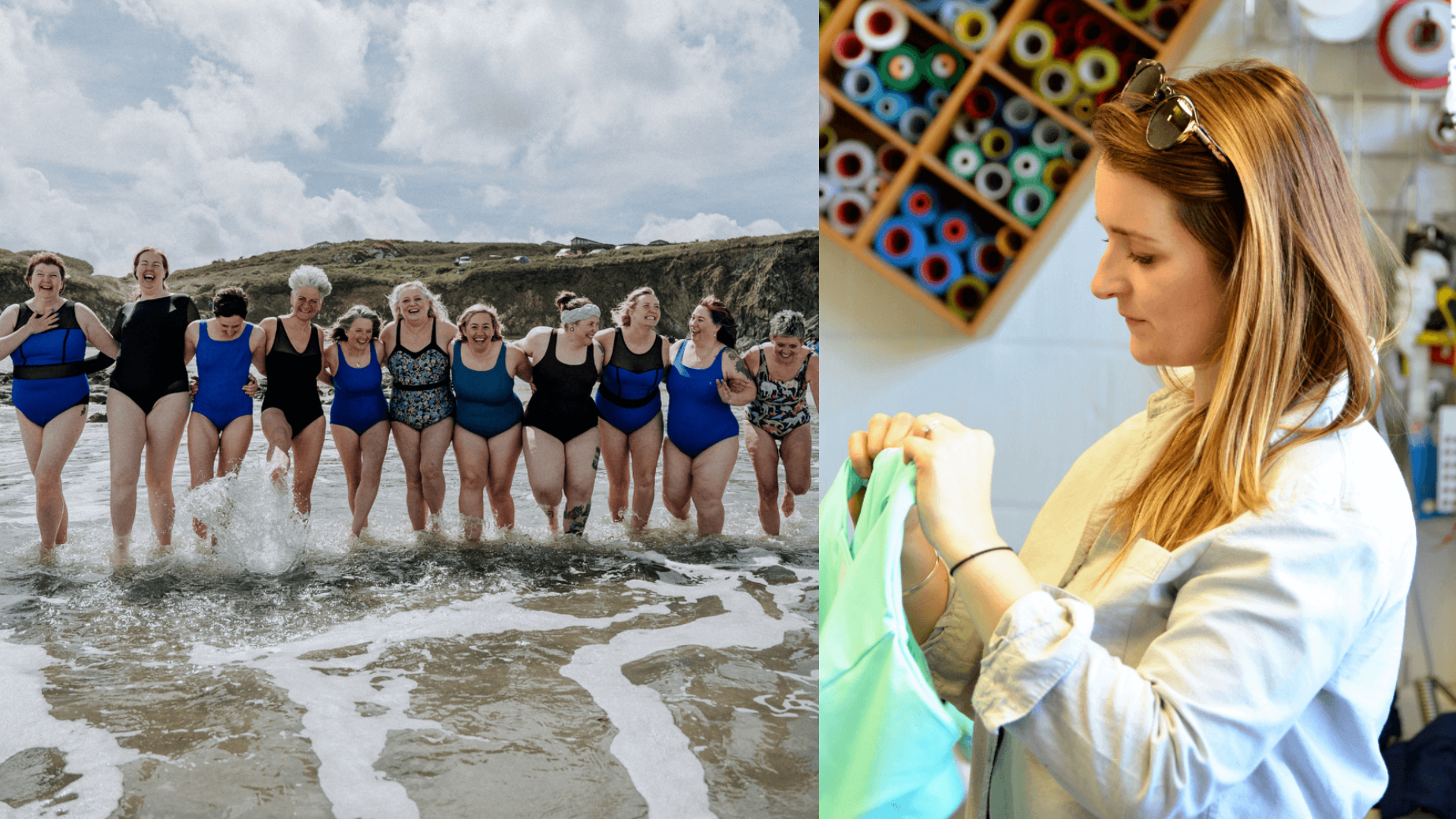 Deakin & Blue Founder Rosie's Tale
June's Bluetit Discount Card Giveaway is a chance to win a fantastic bundle from one of our favourite UK swimwear brands - Deakin & Blue! We have a long standing relationship with D&B, including a Bluetit Body Stories campaign. We share a belief that the water is for everyone, and a mission to reduce barriers.
 - £100 D&B gift card
 - D&B x Macmillan Cancer Support Keep It Dry bag
 - D&B Limited Edition Tote Bag
Rosie Cook founded Deakin & Blue after struggling to find a supportive, stylish swimsuit for herself, and hearing from other women that they were having similar problems, with 1 in 2 not swimming with their kids due to feeling self conscious in swimwear. She has written the following piece about her D&B journey so far.
Over to Rosie!
Getting started

I set up D&B in 2017 after struggling to find a swimsuit for my weekly swim. I'm slim and big busted and wanted something that was sporty, supportive and sustainable.

At the time I owned a handful of pretty bikinis that were great for lazy holidays
(lounging by a pool, ordering a cocktail) but useless the minute I wanted to actually move in them – whether that be for a leisurely set of lengths or, god forbid, anything more active such as a diving, surfing or even just dashing across the beach to apply suncream to my kids.
At the time I did that thing that I think women often do – framed the problem as being unique to me because of my 'weird body' 'weird shape' etc. Failing to find anything that worked, I tacked a sports bra into a high street swimsuit and adjusted the leg height of the costume (it rode too high, making a weekly bikini wax essential. No thank you). In this hacked-together swimsuit my husband told me I stood taller, looked comfortable and – the real clincher – I smiled!
I told the story of my home-made swimsuit to girlfriends over dinner and coffees for about six months. I was struck that every woman I spoke with nodded with shared understanding of the predicament. Regardless of her age, shape, size, race and what they needed swimwear for, every woman shared her own frustrations back with me. I realised, as a dimmer switch slowly turned on over the course of six months, that there was a universal issue here in the availability of good swimwear for women who didn't want to compromise on style, support or substance.
All the women I knew wanted the choice to look and, most importantly, feel good,
strong, sexy, feminine – you pick, whilst also being able to move in their swimwear. A little bit of research further validated my hypothesis: tens of thousands of women had given up swimming because of body image concerns, and 1 in 2 mums don't take their kids to learn to swim, because of how they feel in swimwear. And so, I plucked up the courage to quit my job and try to build a business which helps women feel joy in their swimwear.
Where we are today

That was six years ago and we're going from strength to strength. Today D&B
creates a range of swimsuits and bikinis in sizes 8-24 and across AA-HH cups; we
design every item in collaboration with customers and with an eye to solving
common customer pain points. Every swimsuit and bikini is made from ocean waste in our small production studio in London, and we believe so much in the durability and quality of our pieces that we offer a repair service and even a swimsuit recycling service for when your cossie really has swum its last swim.
It's not been an easy journey and there is still much more we want to do. New styles to launch, expanding our size range further, making our pricing even more
accessible for customers – the list is long. But it has been a thrill to know that
thousands of women wear our swimsuits daily, weekly, monthly – and take part in
activities they might not have for fear of how they looked and felt.
Body Stories & The Bluetits

Something we do that I am especially proud of is called Body Stories. This is a
weekly series of raw, honest and often very witty stories from D&B customers about their relationship with their body. Each women tells the story of her body, and how her relationship with it has changed over time in relation to major life events (love, loss, mothering, menopause and more) and the role that cold water swimming has played in helping them rediscover themselves. These accounts are an absolute privilege to read and we've been thrilled to feature many Bluetits in our series over the years.
When I first met Sian and the Bluetits, I immediately recognised an incredible woman and organisation who were working on the same goal: trying to help (men and) women get into water, and feel good doing it. To leave their inhibitions, fears and worries at the water's edge, and to be brave enough to take that first step in,
knowing that even the smallest dip, can transform the way we feel about ourselves.
I've loved partnering with The Bluetits and witnessing the growth of this incredible
organisation. I've swum with countless Bluetits myself and many of them are loyal
D&B customers too.