It's time for the Bluetit Winter Event that we look forward to all year, and this time, there are TWO!!
We're thrilled that this Winter 2023 will see two Arctic Flappers Nippy Dippers events take place - one at a brand new to us venue at Box End, and the other with a Christmassy twist at good old Lake 32!
❄️ Box End, Bedford - Saturday 7th October 2023 ❄️
🎅 Lake 32, Cotswolds - Saturday 25th November 2023 🎅
An Arctic Flappers Nippy Dippers event will encourage you to challenge your limits in a supportive, fun environment, and leave feeling like you can take on the world. It is non-competitive (apart from the famous inflatable race) and all about connecting with fellow Bluetits and supporting one another to achieve something incredible in cold water.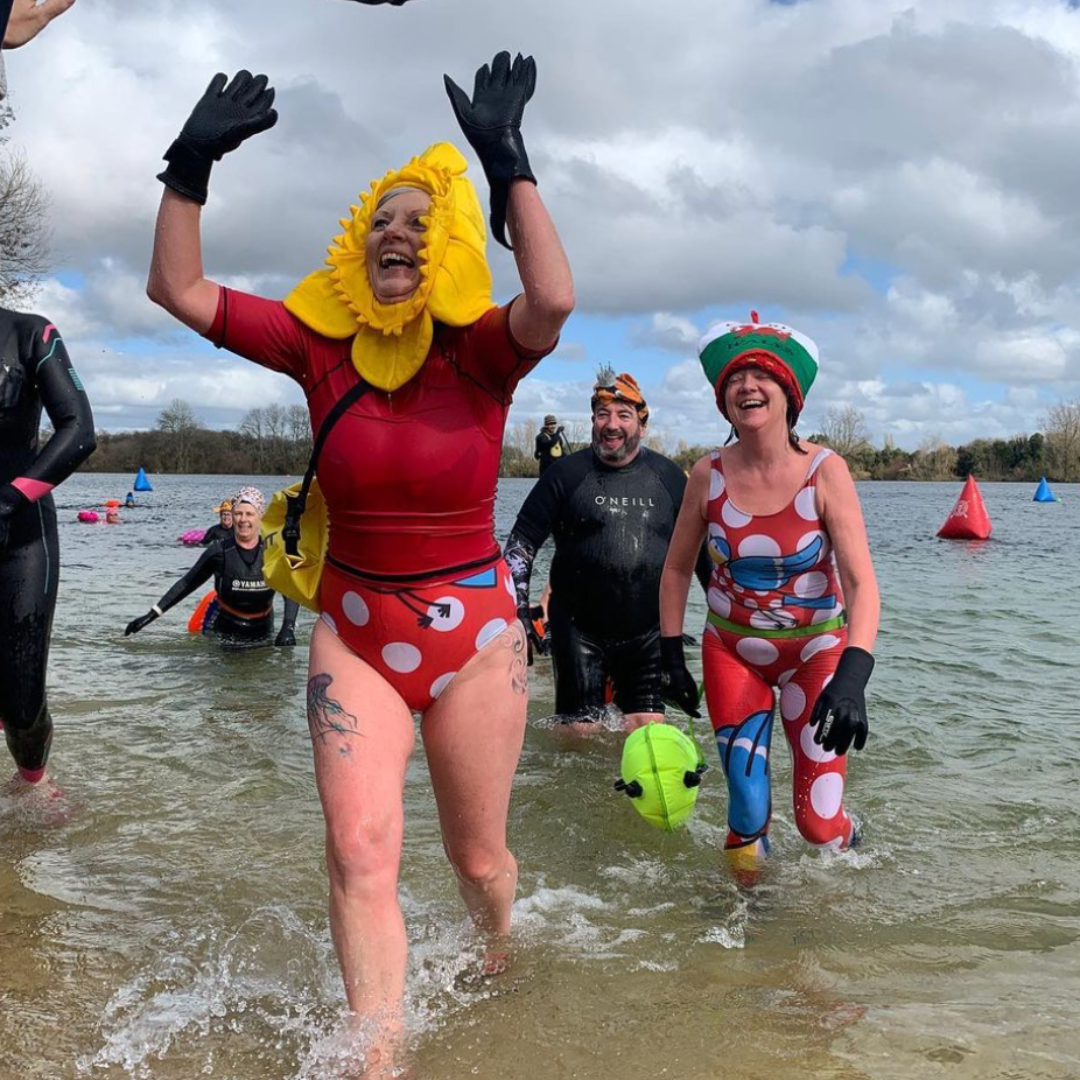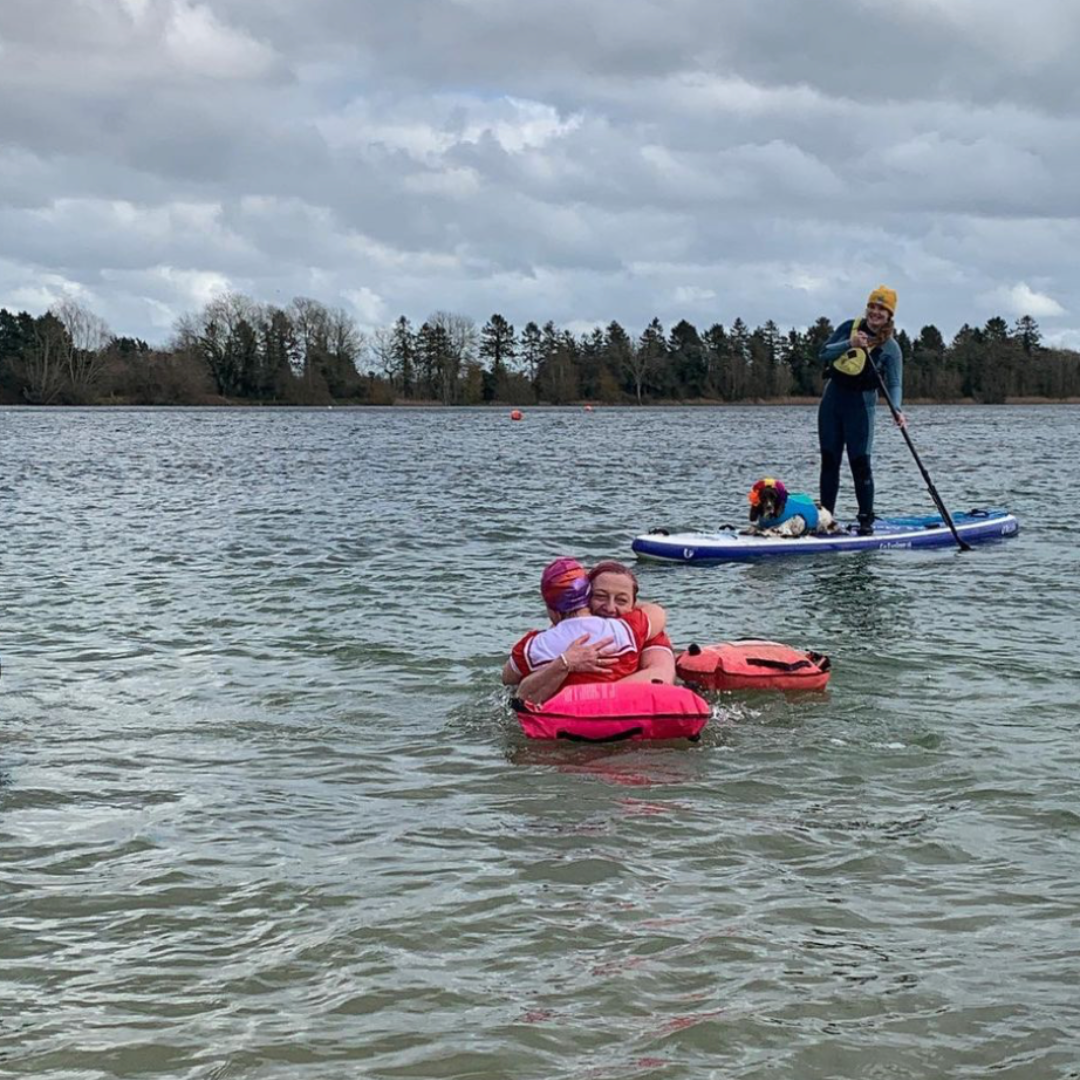 FAQs
What events can I enter?
This year at each event there will be 5 individual distance swims - 50m, 100m, 200m, 400m and a NEW 800m - and an inflatable race for teams of 4. There will also be prizes for the best hat, so come prepared!
Do I have to be a fast swimmer?
No. This is an inclusive, non-competitive event, and is all about the experience. There will be 50 - 100 people in each swim, and you can decide to be up front where the action is, or hang back for a more gentle swim. We won't be timing you, or announcing who came first.
You can swim any stroke you like, and wear whatever you please! Wetsuits, swimsuits, amazing hats - we welcome all of it! You will need to swim with either a tow float or a brightly coloured hat in order to enter the water.
How cold will the water be?
At Box End, the water is likely to be around 12 degrees, and at Lake 32 around 8 degrees. It is advisable that you do not make this event the first time you hit cold water!
Please only consider entering the 800m swim if you are comfortable swimming this distance in 8 degrees or under. The organisers reserve the right to shorten this distance if the water is too cold according to their safety team.
How much is entry?
Entry to the distance swims is £25-£35 per entrant. Entry to the inflatable race is £50 per team.
What will I get?
As well as a warm glow, a sense of achievement, and some fantastic memories, you will take away a tote bag, event patch, and distance badge. The cost also includes full water safety cover.
Where are the events?
The October event is to be held at Box End Park, Box End Rd, Box End, Bedford MK43 8RQ.
The November event is to be held at Lake 32, Spratsgate Ln, Cirencester GL7 6DF.
How old do I have to be to enter?
Entrants must be 18 or over. Under 18s are welcome to come and spectate as long as they are accompanied by an adult at all times.
What time do I need to be there?
Registration will open at 10.30am, and close at 12.15pm. The briefing will take place at 12.30pm. The event should end by 3pm. There is a cafe at each venue, and there will be stalls selling all things Bluetitty and products from companies we support.
Can I bring someone with me?
Yes! Spectators are welcome.
What about parking and toilet facilities?
Plenty of free parking is available for participants only. There are toilet facilities on site.
What do I need to bring?
As well as your usual swim kit and things to keep you warm, you will need:
A tow float or bright swim hat
Swim shoes
One inflatable (if you are entering the inflatable race) per team. Your steed must be a good all-rounder, think running, mounting, pushing, and paddling!
Your completed registration form
If entering the 800m swim, we recommend nominating a warm up buddy to hold your robe and help you dress afterwards.
Where are the Terms and Conditions?
We're so glad you asked! You can find the Ts & Cs here.